01 July – 13 August 2023
Opening reception: 01 July, 6-8 pm
Congratulations to PArt jury member Anselm Reyle for his solo exhibition in Washington DC. We warmly encourage anyone in the region to visit the exhibition.
This will be Reyle's first solo exhibition with the gallery von ammon co, and his first in the capitol.
"Over the last several decades, Reyle has not only set many of the dominant standards for contemporary abstraction, but has also expanded its frontiers in various directions in order to provoke and disturb the dominant structures of taste. As a result, he has proven to be one of the lodestars of this gallery's program, and of so many more emerging artists in the gallery's greater community.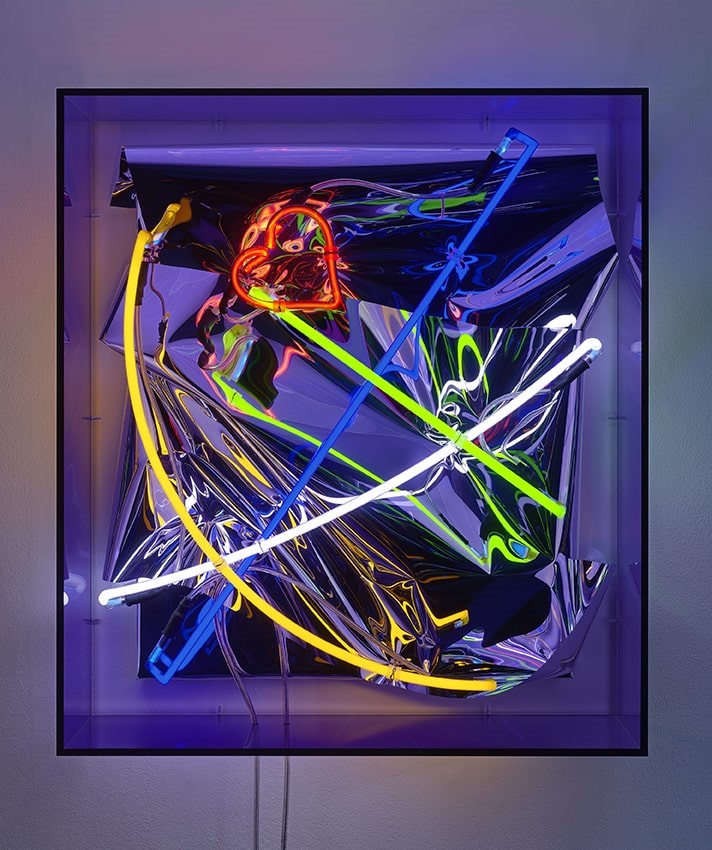 Anselm Reyle, Untitled, 2022, Mixed media, neon, cable, acrylic glass, 26.97 x 23.72 x 9.06 in / 79 x 70 x 23 cm
This exhibition is comprised of groups of several variations of Reyle's sealed acrylic vitrine paintings and sculptures. Each work involves a sealed case of acrylic glass, and thus willingly enters a conversation about the funereal and sepulchral: the absence of breathable gases creates a redoubt from disintegration and decay. What is contained within these airless spaces are citations of earthly pleasures: mylar buntings reside in acid green and violet casings and allude to celebration and excess; elliptical phrases and shapes in electrified neon ensconced within reflective foil conjure a thrilling, fragmented sense of urban terrestrial nightlife; and straw bales contained within polychrome acrylic caskets evoke a long-lapsed bucolic halcyon age."*
von ammon co is the leading commercial venue for contemporary exhibitions in Washington DC. Founded in 2019, the gallery has mounted over twenty five exhibitions at its primary location in Georgetown, and represents an internationally distributed stable of fifteen artists and artist collectives.
The gallery is open every Saturday and Sunday, from 12-6pm, and by appointment.
more information at: www.vonammon.co
* Text: von ammon co.
Image above: Anselm Reyle, Untitled, 2022, found object, chrome lacquer, acrylic glass, 18½ x 37¾ x 25¼ in., 48 x 96 x 64 cm. / Anselm Reyle, Untitled, 2023, found object, chrome lacquer, acrylic glass, 18⅞ x 37¾ x 25¼ in., 48 x 96 x 64 cm