[in the box]
at Künstlerhaus Sootbörn, Hamburg
Last Friday the exhibtion of Penny Monogious installation "Karyatiden" opened in [ in the box] at Künstlerhaus Sootbörn. [ in the box ] is an initiative in the foyer of the Künstlerhaus Sootbörn, started in 2020 and supported by the aid fund "Kunst kennt keinen Shutdown".
The exhibition will be on view until the 13.03.2022
This installation is part of an ongoing exhibition project that will be developed in the coming years. It represents the Erechtheion, a temple in the Ionic architectural style on the Acropolis in Athens, where the 6 caryatids (columns in the shape of a woman) can be seen. Five caryatids are currently in the Acropolis Museum in Athens, where they were taken for protection, and the sixth has been in England since the 19th century, now in the British Museum along with several Greek cultural objects. On the occasion of the exhibition in [ in the box ], the artist reinterprets the Erechtheion of the Parthenon into an in situ installation. The caryatids no longer have the function of columns, so they no longer support the temple. The space contains a bed in which the one caryatid sleeps. She is covered and protected by the other five caryatids drawn on a bedspread.
Duration of the exhibition: until 13.03.22 
[in the box]Künstlerhaus Sootbörn
Sootbörn 22
22453 Hamburg 
Photography: Lashproductions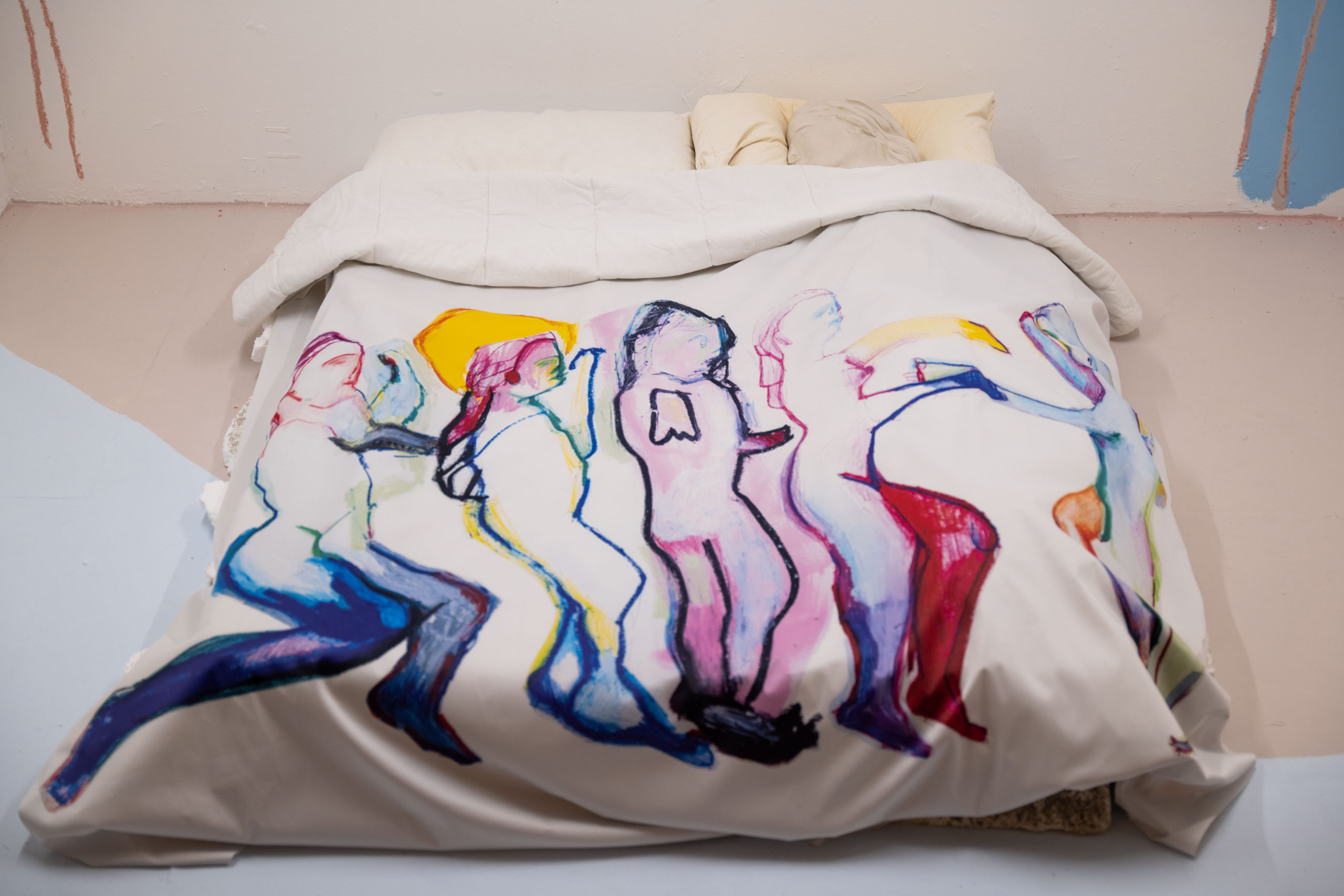 Fine Art Edition "Caryatids" 10 + 2AP
The Fine Art Edition "Caryatids" 2022, based on this drawing, is a high quality digital print on a 210g textile fabric, in the size of 200 x 210 cm. The Edition consists of 10 unique Pieces + 2 Artist Proofs. All pieces are signed and parts of them are hand-sewn by Penny Monogiou.
To order your own piece contact the artist.